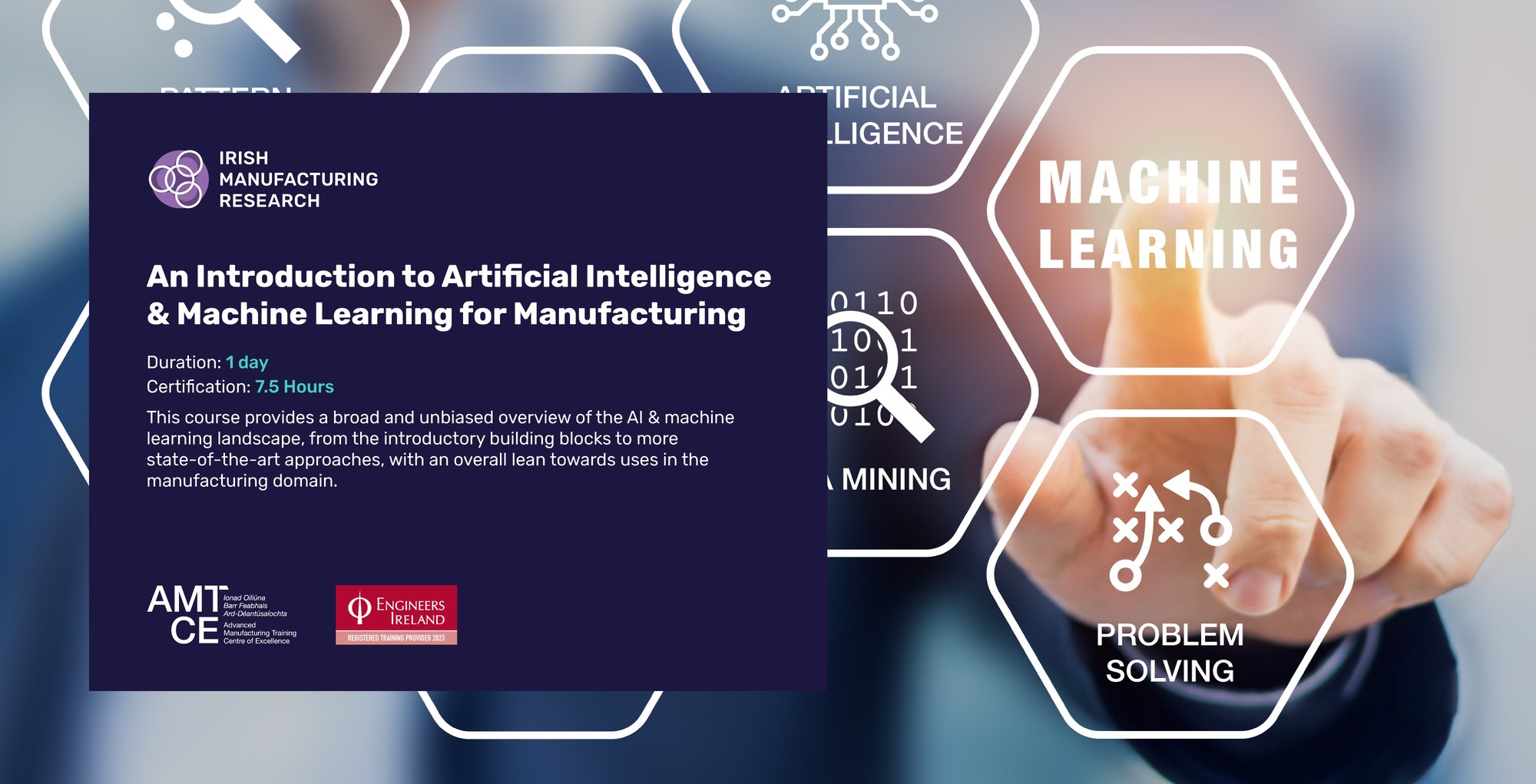 Course Date
Next course date: TBC
Course Description
Carlos Garcia Senior Technologist in AI & Machine learning - a highly experienced data scientist - provides a broad and unbiased overview of the AI & machine learning landscape, from the introductory building blocks to more state-of-the-art approaches, with an overall lean towards uses in the manufacturing domain.
Artificial intelligence refers to the processes and algorithms that are able to simulate human intelligence, including mimicking cognitive functions such as perception, learning and problem solving. Machine Learning is a sub set of AI, where we build a model based on sample data, in order to make predictions or decisions without being explicitly programmed to do so.
In its application across business problems, ML has used cases such as demand forecasting, supply chain and predictive maintenance that can be discussed in the course.
Target Audience
Introductory, for people with no or little previous data analytics knowledge. Managers who want to learn the language and tools of Machine Learning in context of AI.
Learning Objectives
The objective of the course is to give an overview of what ML is and what it can do, not actually how to build algorithms.
Learn the most important steps and implementation concepts for the realization of AI & machine learning projects.
There will be one or two Jupyter notebooks with the objective of showing the learner what a ML algorithm looks like, but no requirements for the learner to work with them.
Facilitator Profile
Carlos Garcia
Dr Carlos García Santiago is the Senior Analytics Technologist at IMR. He has 20 years of experience working on AI and data analytics applied to railways, renewable energy, stock market and manufacturing. By training, he is an Industrial Engineer, with a PhD on the application of evolutionary algorithms for manufacturing.
Course Duration
1 Day
Assessment & Certification
Engineers Ireland CPD approved - 7.5 hours
Funding is available for qualifying companies. Find out if you qualify by registering your interest below.
Register Interest - An Introduction to AI & Machine Learning for Manufacturing